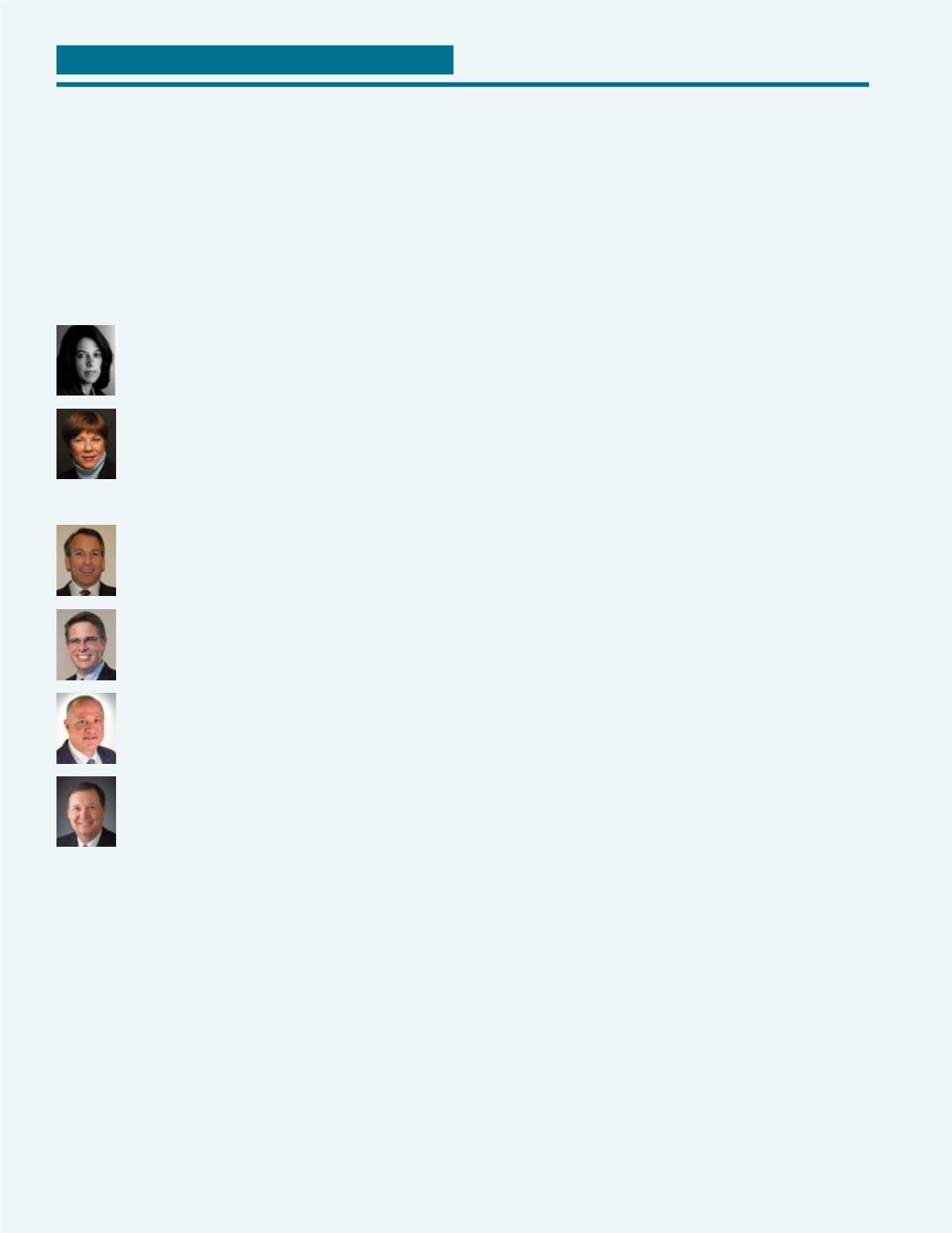 CRE Finance World Summer 2015
16
A Lender Roundtable: Real Talk from Real Lenders on Today's
Competitive Commercial and Multifamily Lending Environments
Moderators:
Lisa Pendergast
Managing Director
Jefferies LLC
Stephanie Petosa
Managing Director
Fitch Ratings
Panelists:
Larry Brown
President
Starwood Mortgage Capital
Brian A. Furlong
Managing Director
New York Life Real Estate Investors
Spencer Kagan
Managing Director
Barclays PLC
Clay M. Sublett
Senior Vice President
Key Bank Real Estate Capital
Stephanie Petosa. Thanks to everyone for participating on our
2015 Lender Roundtable. We are fortunate to have a broad
spectrum of seasoned CRE lenders with us today: Brian Furlong
represents life company lenders, Clay Sublett bank portfolio
lenders, Spencer Kagan bank CMBS lenders, and Larry Brown
non-bank CMBS lenders. This group provides us with a 360-
degree view of today's lending environment, including its positive,
negatives, challenges and opportunities. So let's get started.
Competition:
Never Interrupt Your Enemy When He Is Making
a Mistake
(Napoleon Bonaparte 1769-1821)
Lisa Pendergast. Few would argue that competition hasn't
increased for all capital providers, be it portfolio lenders, the
GSEs, or CMBS lenders. Despite the increasingly competitive
lending landscape, demand for capital should increase in 2015
and over the next two years given the anticipated high volume
of maturing loans and historically high levels of commercial-
property transactions. How is competition affecting the way
you think about the business and what you anticipate over the
next couple of years?
Brian Furlong.
I don't think real estate or structured finance is
leading the way in terms of a boom. It's not overheated compared
to how it was in 2007 when real estate and structured finance in
particular did help lead the boom. When you think about what went
wrong, a lot of it was excess in structured finance and I don't think
that's true today. The premise that we're overheated is probably not
true in my opinion.
Clay Sublett.
I agree with Brian directionally. I don't think the market
is necessarily overheated, but it is dangerously close to getting
there. The rebound in the overall economy and the return of the
banking sector as well as other lenders explain the heightened
competition and the erosion in loan structure in some cases. The
broader level of competition is a good thing as opposed to when
one dominant execution prevails. It's not healthy when one particular
sector dominates, no matter if it's agency, bank, or CMBS. Today,
everybody is picking their spots and deciding where they want to
lean in. Interestingly, there is an overlap in terms of traditional lenders,
and it's largely driven by interest rates. Traditional floating-rate
lenders are choosing to lend fixed rate in some cases because
they think it is a better risk or a better bet. Some traditional fixed-
rate lenders are choosing to go with floating rate.
Larry Brown.
It's interesting when you look at institutional behavior
across lender types… a lot of lessons have been learned. One
reason commercial banks are crossing over from floating to fixed
rate is because they're making fewer construction loans, fewer
land development loans. They are pursuing the safer products.
Roundtable