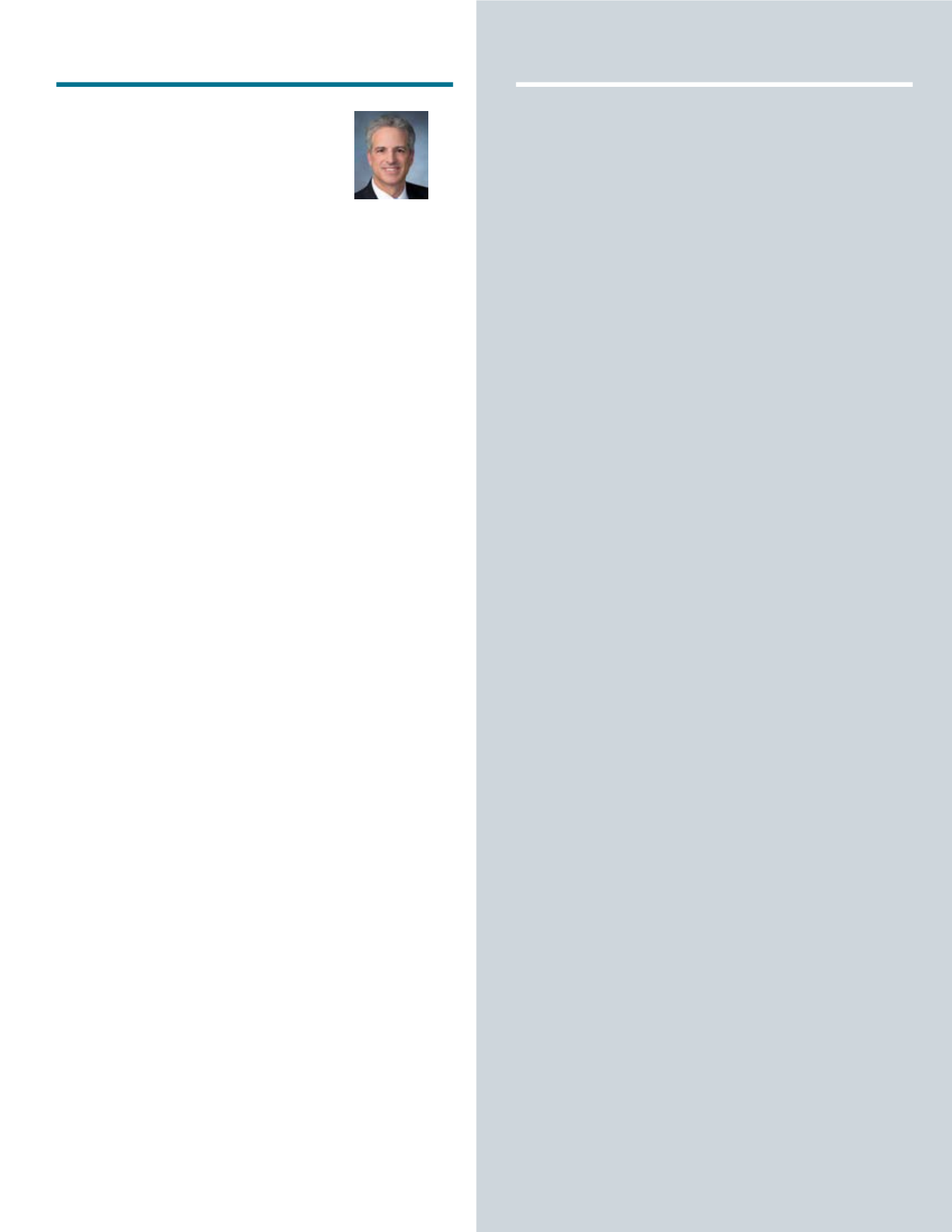 CRE Finance World Summer 2015
4
elcome to the Summer 2015 edition of
CRE Finance
World
magazine.
With each edition of the magazine, we are excited to
present to you an ever improving product both in look
and content. No matter what sector of the industry you work in, I
am certain you will find several articles that broaden and enhance
your understanding of CRE finance.
In addition to the quality articles, this edition puts the spotlight
on two prevailing influences on the industry today: crowdfunding
and the plummeting price of energy on commercial real estate
finance. The magazine also features two insightful and informative
roundtable discussions. One on CRE lending broadly led by Lisa
Pendergast of Jefferies and the other on CMBS 2.0 State of the
Market written by Ed Shugrue III of Talmage, LLC.
Without the contributions of the many authors who are willing to
share their time and insightful analysis of key aspects of the CRE
industry, this magazine would not be possible. We are grateful to
each of our authors as well as to the magazine editorial board and
staff for their efforts in producing a publication of the highest caliber.
The quality of the magazine also makes it an ideal sponsorship
and advertising platform. I urge you to consider sponsorship of
CRE Finance World
. It is seen by the most significant players in
the market and it is an effective means of displaying your industry
expertise to clients, prospects and colleagues. The advantages of
this valuable sponsorship are a better value than ever.
Stephen M. Renna
President & Chief Executive Officer
CRE Finance Council
W
Letter from
Stephen M. Renna
President & CEO
Stephen M. Renna
President & CEO
CRE Finance Council
2014
Level 1
HFF, L.P.
Level 2
Cushman & Wakefield, Inc.
Riemer & Braunstein LLP
Shearman & Sterling LLP
Symetra Financial
Western Asset Management
Level 3
Akerman LLP
Allen Matkins Leck Gamble Mallory
& Natsis LLP
Arent Fox LLP
Armada Analytics, Inc.
Arnold & Porter LLP
Berkshire Group
Bluett & Associates
BofI Federal Bank
CorAmerica Capital, LLC
FirstKey Lending, LLC
Fried Frank Harris Shriver &
Jacobson LLP
Grass River Property
Guardian Life Insurance Co.
Inland Real Estate Investment
Corporation
Institutional Mortgage Capital
Canada, Inc.
Korn/Ferry International
McRoberts & Associates, P.C.
Northwestern Mutual
Investment Management
Company, LLC
Orrick, Herrington & Sutcliffe LLP
ParkStone Capital
Perella Weinberg Partners
Pine River Capital
Promontory Interfinancial Network,
Bank
Assetpoint
QuietStream Financial
Rockwood Capital, LLC
Rubin, Ehrlich & Buckley, P.C.
Saba Capital Management, LP
Seer Capital Management LP
Silverpeak Real Estate Finance LLC
Spring11
Streamline Realty Funding, LLC
TPG Special Situations Partners LP
USAA Real Estate Company
Winston & Strawn LLP
2015
Level 1
BMO Harris Bank
NorthMarq Capital, Inc.
Level 2
DoubleLine Capital
Hunton & Williams LLP
King & Spalding LLP
SunTrust Bank, Inc.
Level 3
ACORE Capital
Bass, Berry & Sims PLC
Benefit Street Partners/
Providence Equity
Partners
Berger Singerman, LLP
BNY Mellon
Burr & Forman LLP
Clarion Partners
CrediFi Corp
Global Atlantic Financial Group
Greenberg Traurig, LLP
Iron Hound Management
Company, LLC
JCR Capital
KGS-Alpha Real Estate
KKR - Kohlberg Kravis Roberts
McGuireWoods LLP
MCube Financial LLC
Miller Mayer LLP
Mission Peak Capital
Newmark Realty Capital, Inc.
ReadyCap Commercial, LLC
Red Capital Group
Roetzel & Andress LPA
Snell & Wilmer LLP
Spirides Hotel Finance Brokers, LLC
Stabilis Capital Management LP
Terra Capital Partners
Varde Partners
Western Alliance Bancorporation
Canadian Chapter
CMLS Financial Ltd.
Manulife Financial/
John Hancock Financial
MCAP Commercial
National Bank Financial Markets
CRE Finance Council New Members
Welcome to CREFC